13 Best Easter Eggs In Fallout 4
It seems like Easter eggs are always in the Fallout games. Here are some of Fallout 4's best ones.
Easter eggs are fun things to find in games. They can be references to other games in the same series or to things from pop culture. Some of these Easter eggs are easy to find, but others aren't found until years after the game comes out. Fallout 4 is no different, and players have found a lot of amazing secrets as they play.
Easter eggs seem to be a big part of the Fallout series. They make connections to popular culture today and to many famous events from the past. The references can be anything from skeletons standing in a certain way to quests that the player is given.
Alien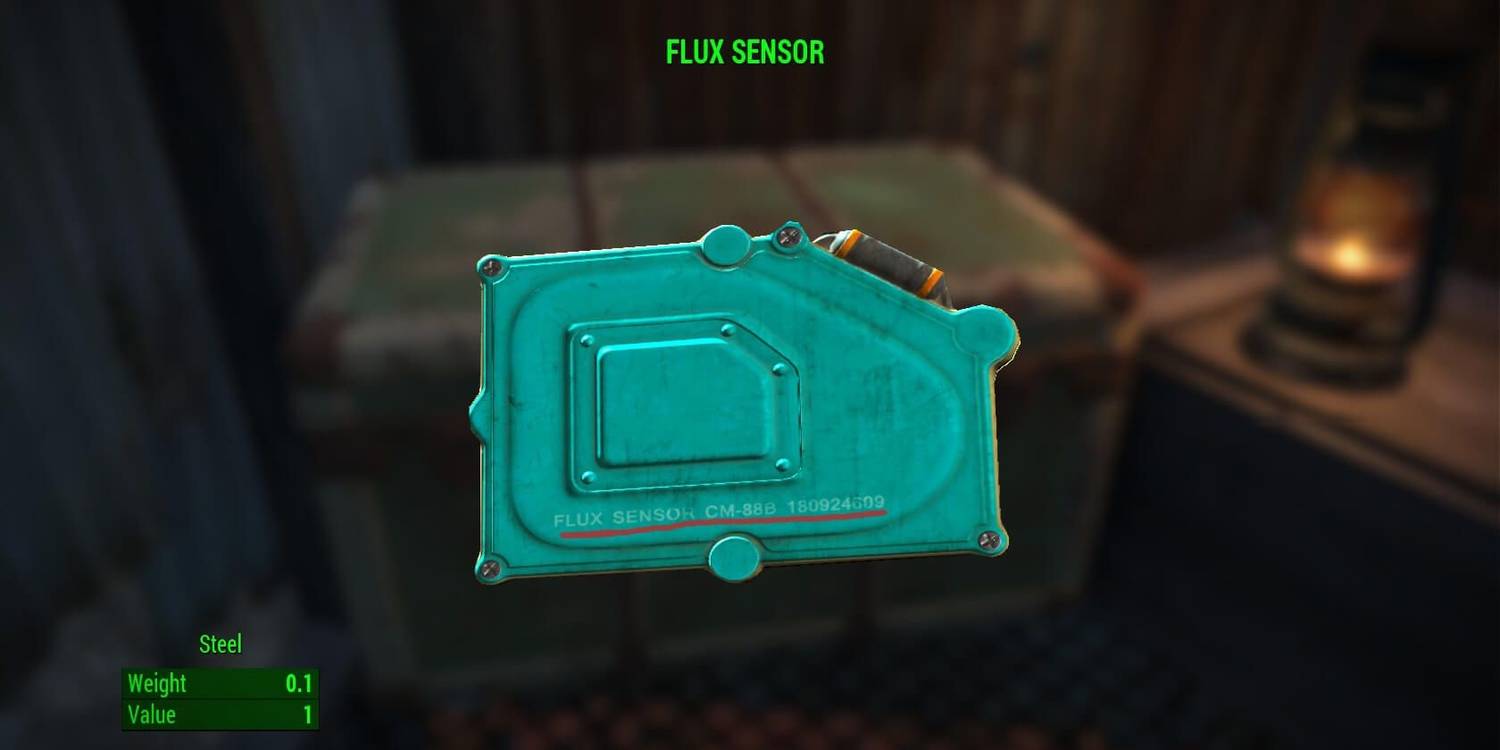 Players can find a lot of junk in Fallout 4, and the main reason they do is so they can break it down into simple parts that can be used to build a town. Of course, players can also sell these things, but with a few exceptions, the money they get for them isn't very much.
One of these useless things is a Flux Sensor, which looks harmless but has a reference to the famous science fiction horror movie Alien. If players look at this item more closely, they can turn it over to see a serial number that is the digital ID for the Nostromo, which is the spaceship that the Xenomorph attacks.
A UFO Sighting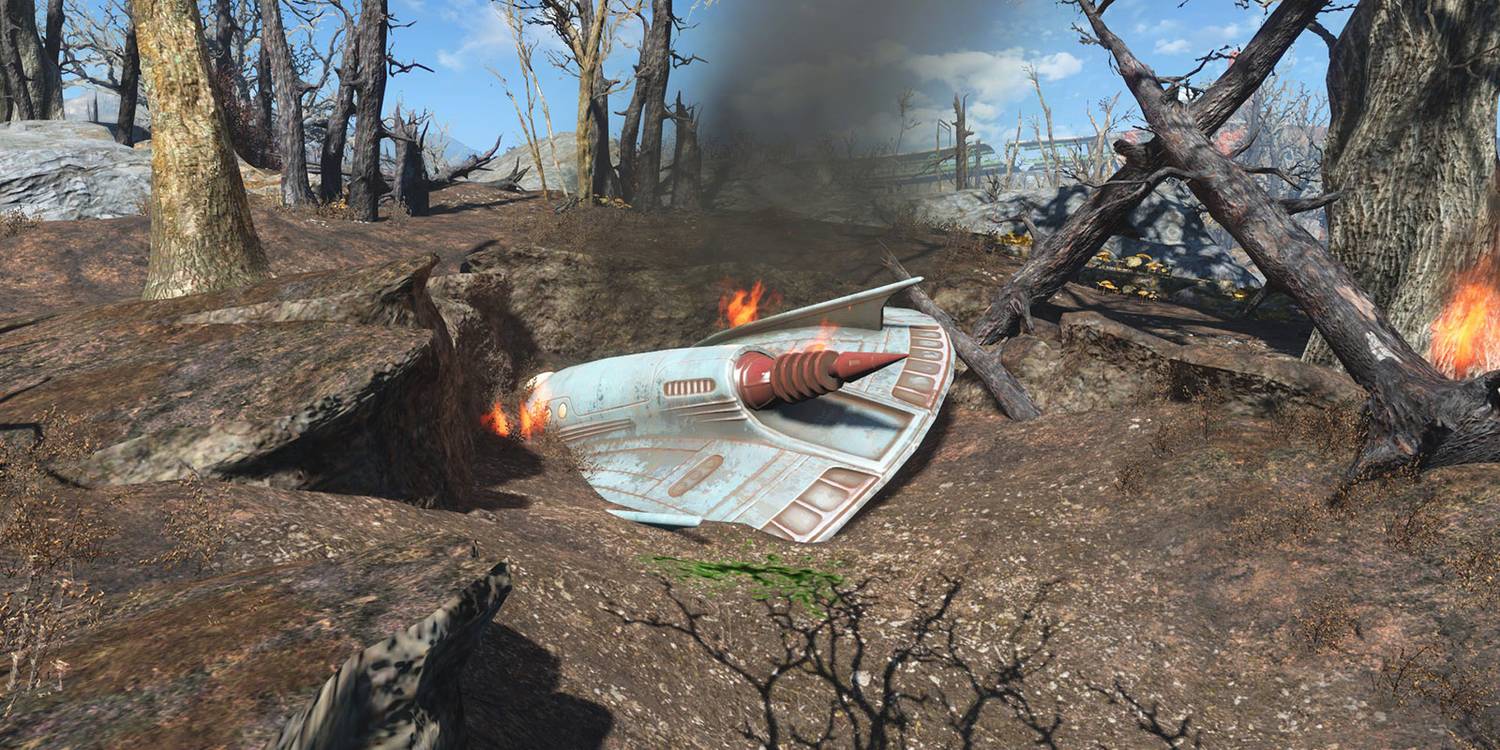 The Fallout series has always been interested in the idea of aliens, and the fourth major game is no different. If a player wants to talk to aliens in this game, they will be able to do so once they reach Level 20 and go to the Old Gullet Sinkhole near the Greentop Nursery.
If the conditions are met, the players will see a UFO fly over them and crash somewhere close. If you go to the crash site, you'll find the ship and a cave nearby that has an alien in it. It is hostile and strikes the player. The unique Alien Blaster can be taken from his body, which is a unique piece of loot.
Classic Video Games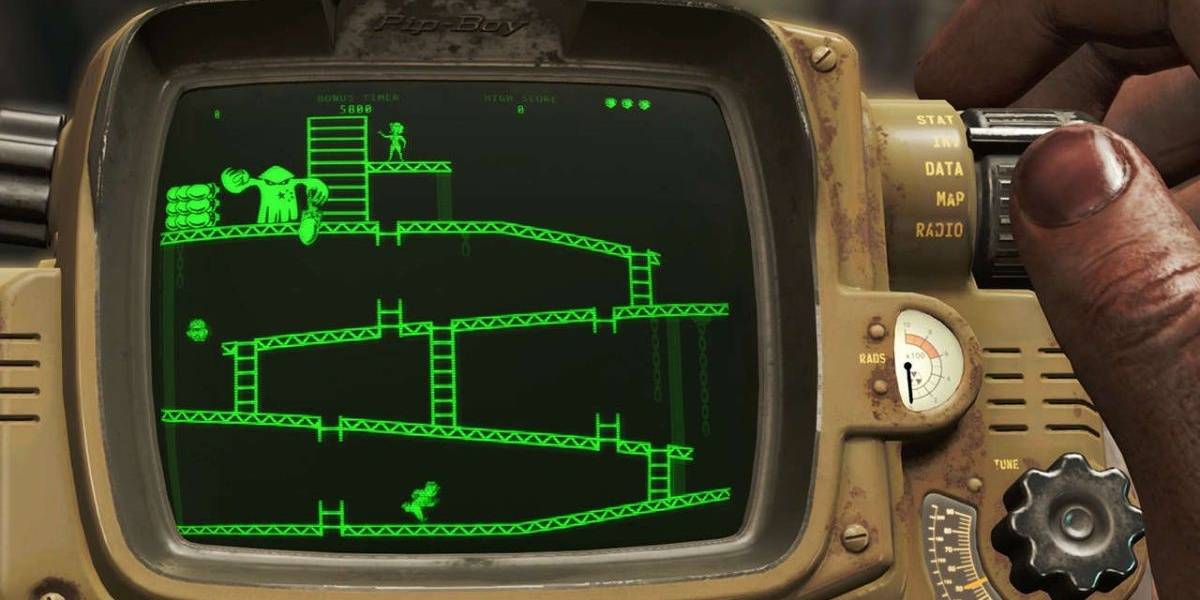 The Pip-Boy is a famous part of every Fallout game, and the fourth game did a good job with this one-of-a-kind piece of tech that helped players keep track of their stats, organize their inventory, and do other similar things. The Pip-Boy in Fallout 4 has a new and unique feature that lets you find and play different holotape games that are hidden around the world.
Red Menace, Atomic Command, Pipfall, Grognak & The Ruby Ruins, and Zeta Invaders are the names of these games, which are based on real-life classics like Donkey Kong, Missile Command, Pitfall, Ultima, and Space Invaders.
Pickman Gallery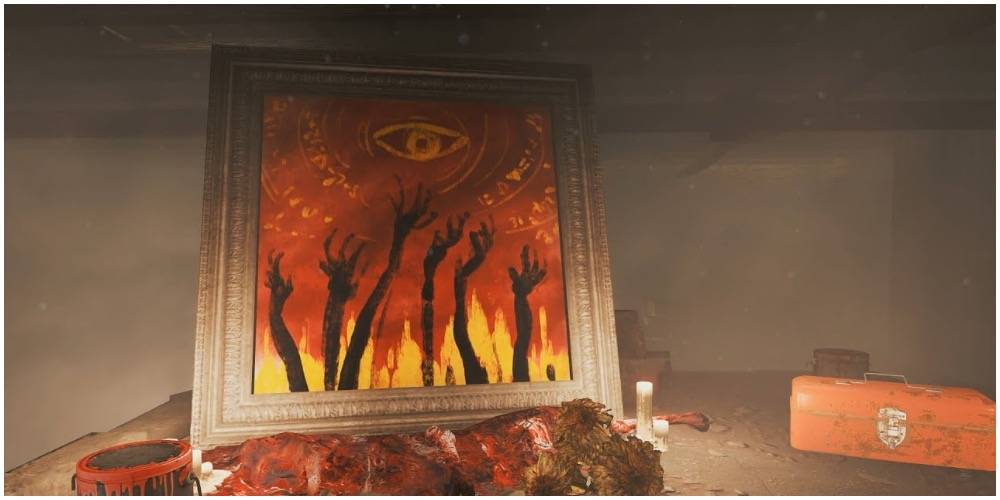 The player can find robbers who run the store Pickman Gallery. When they go inside, they will see strange art and raiders who have been hurt. If the player keeps going, he or she will find a man named Pickman who is trapped by raiders. The player can fight the raiders to save Pickman.
The gallery and the figure of Pickman are all references to a story by H.P. Lovecraft called "Pickman's Model." If the player saves Pickman, they will get a special knife that makes enemies bleed, which does more damage to them.
Christmas in Diamond City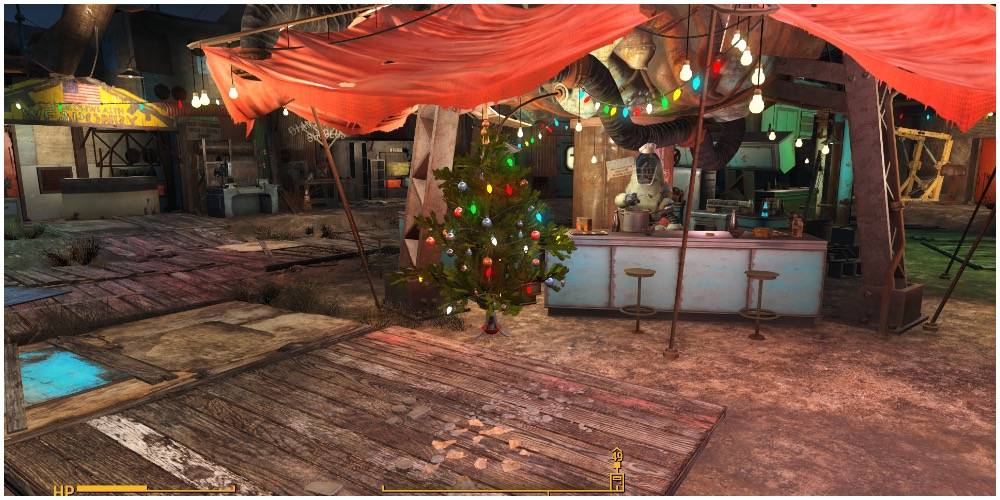 If the player goes to Diamond City on December 25, the town will have Christmas trees and lights all over it. In the game, the lights will stay up until New Year's Eve, giving the city a little change. It's fun to think that people in Diamond City still celebrate the holidays from before the war.
If the player goes to the city on Halloween, it will be decked with things that have to do with the holiday. Even though it might not have been expected, seeing the city decorated for a pre-war holiday is a nice treat for anyone who didn't think it would be.
Jaws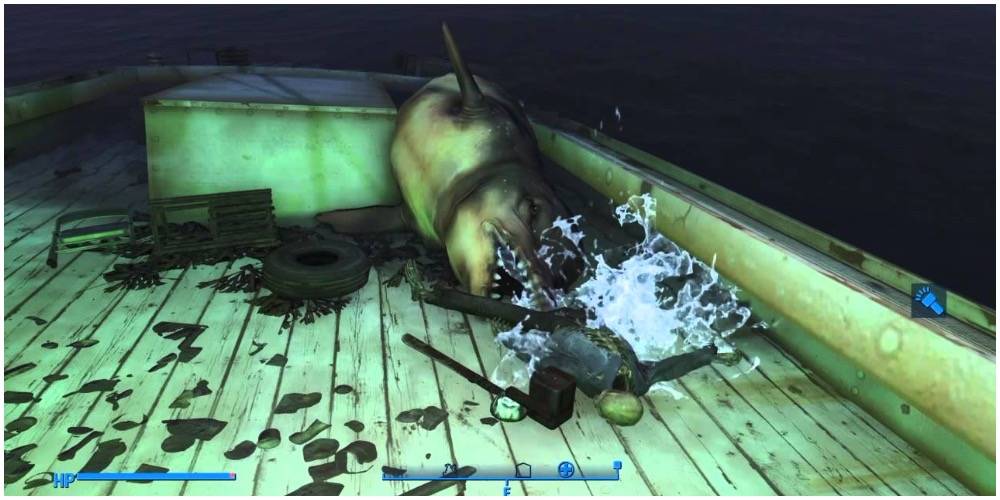 There are boats all over the Commonwealth with a dolphin fighting a skeleton in a blue jacket and bandana. This is a reference to the movie Jaws, in which a shark makes the water around a town scary.
If a player comes across this, they will probably know it as the scene where the shark strikes the boat and breaks part of it. After seeing this, we better hope that these animals aren't still swimming around Boston.
Codsworth's Name Database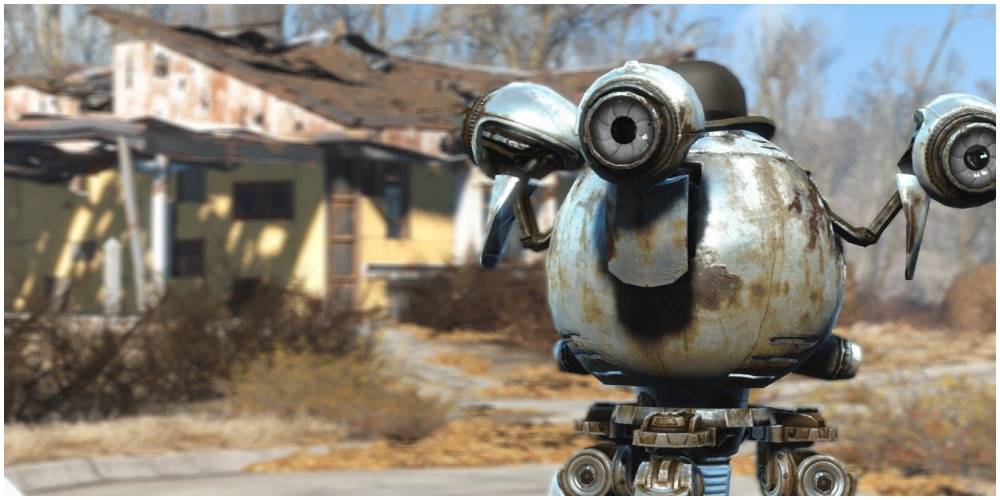 Some NPCs in Fallout 4 can say the player's name, which is a cool function. When he talks to the player in the beginning, Codsworth is the first NPC to do this. Codsworth might be surprised if someone named their character after a person from a movie or another video game.
Codsworth can name figures from Mad Max and will even call the player "Trump" if they name themselves that. Players whose characters are named after curses or other bad words might be surprised to hear Codsworth say the same thing.
Dark Souls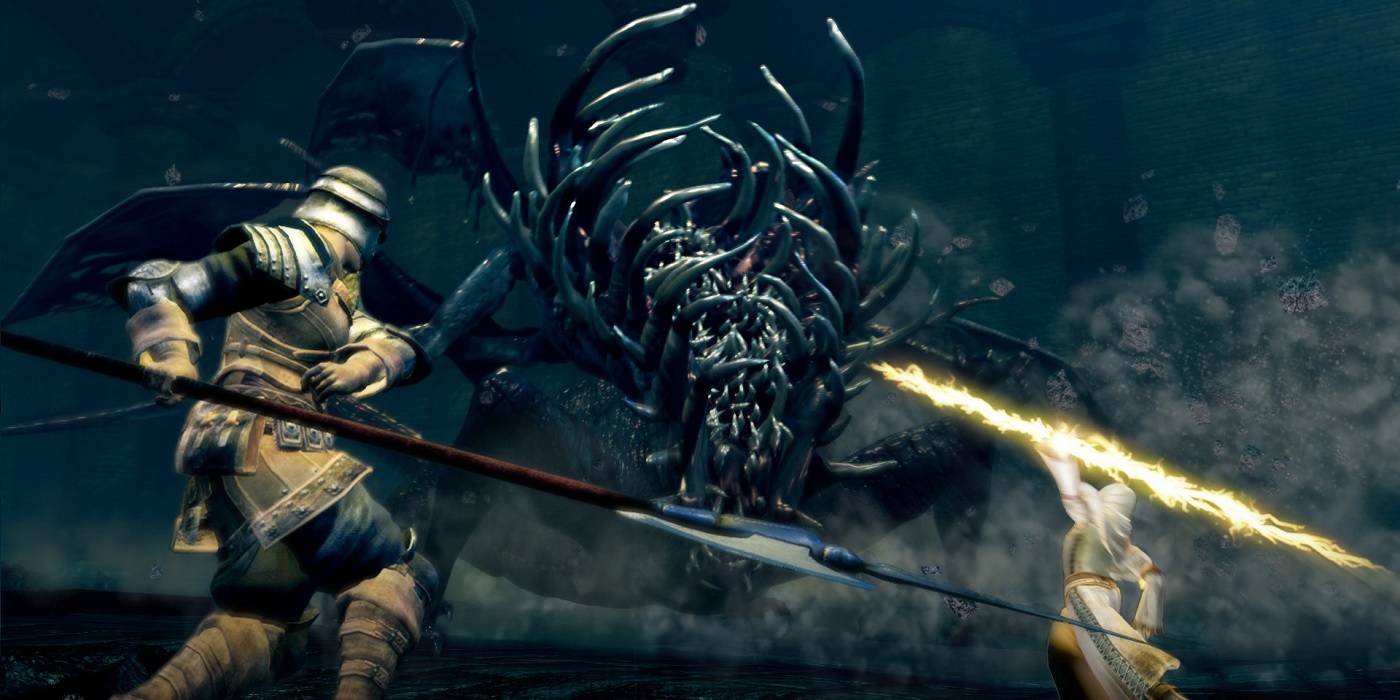 In the Nuka-World DLC, the player can find a house where ash covers a sword. Stimpaks will fall down if you touch it, and a fire will start. This is a nod to the Dark Souls games, where a bonfire is used to heal the player.
On the DLC's map, you can find this house near Bradberton. The player can also take the sword, which gives them some health packs and a new tool.
Star Wars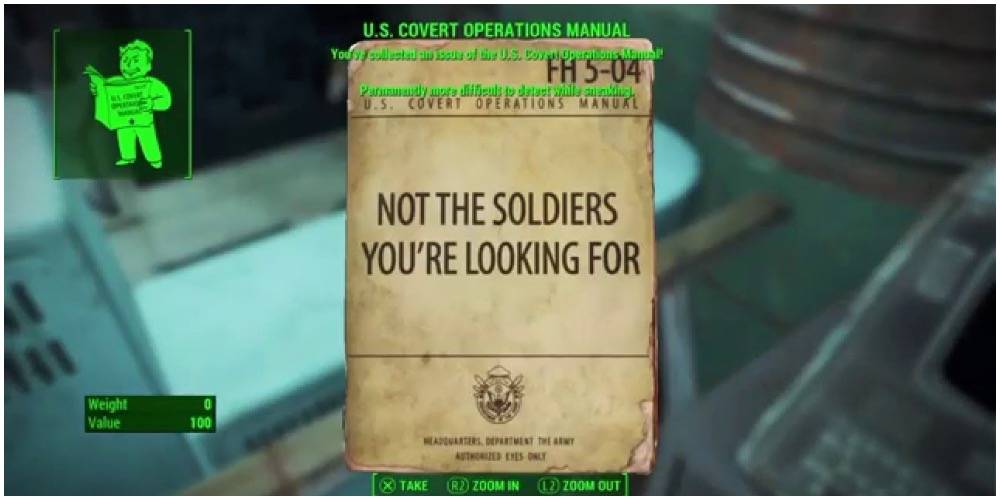 If you find this Covert Operations Manual, you might know the name of this issue right away. It refers to something Obi-Wan said in Star Wars: A New Hope. Obi-Wan uses a mind trick to tell a soldier, "These are not the droids you're looking for."
This Easter egg might not even be seen by most players, making it easy for many fans of Happy Wheels to miss. Even though the war in the Fallout universe had one of the saddest endings of any imaginary universe, it is good to know that the military got ideas from a Jedi master.
The Cask of Amontillado
Players can find a skeleton that has been bricked into the bottom part of The Castle. This is a reference to Edgar Allan Poe's story "The Cask of Amontillado." Amontillado wine boxes and the body of McGann, the general of the Minutemen, can be found nearby.
Edgar Allan Poe was stationed at Fort Independence, on which The Castle is based. This is a fun fact. He got the idea to write this story while he was at the fort.
Nirnroot Found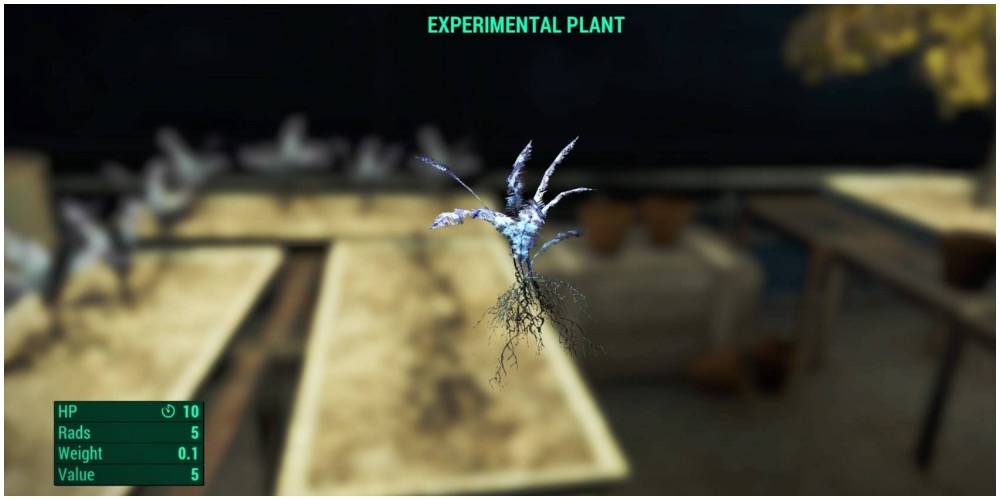 Players can find a place on the Prydwen where experts from the Brotherhood of Steel are growing plants. One of these is called a "experimental plant," but the others don't look too strange. If you've played Skyrim, you'll know that these trees are Nirnroot.
It looks like Skyrim is now taking over the world of Fallout. Even though it's just an Easter egg, it's fun to think that the Elder Scrolls could have happened before Fallout.
Todd Howard Makes An Appearance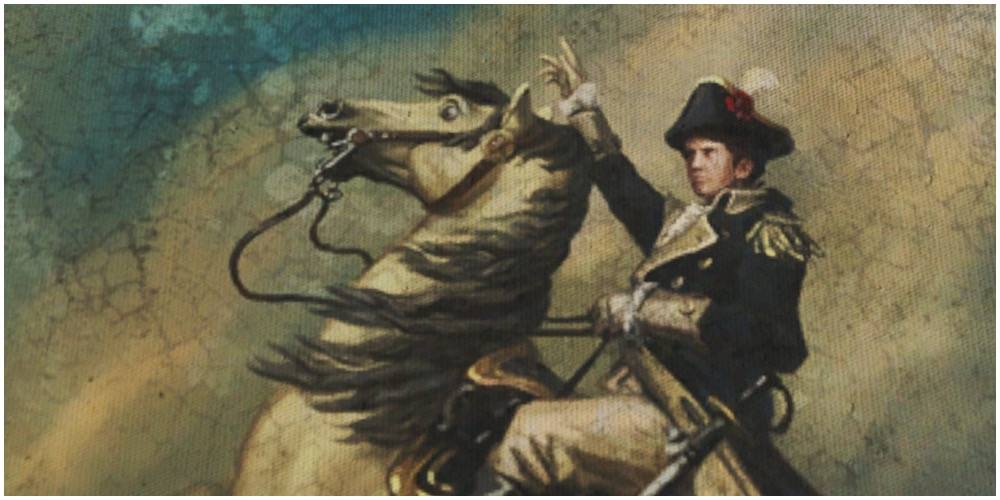 Players might see a familiar face in a picture they find anywhere in the Commonwealth. It looks like Napoleon, but if you look closely, you'll see that it's actually Todd Howard. Todd Howard is the executive director of Bethesda, and he has worked on every Fallout game that company has made.
It's fun to find out that this is a picture of Todd Howard from the game. After Bethesda's controversial release of Fallout 76, this video game director's fame may not be as high as it used to be, but he still gets a lot of respect for how well he marketed games like Skyrim.
Titanic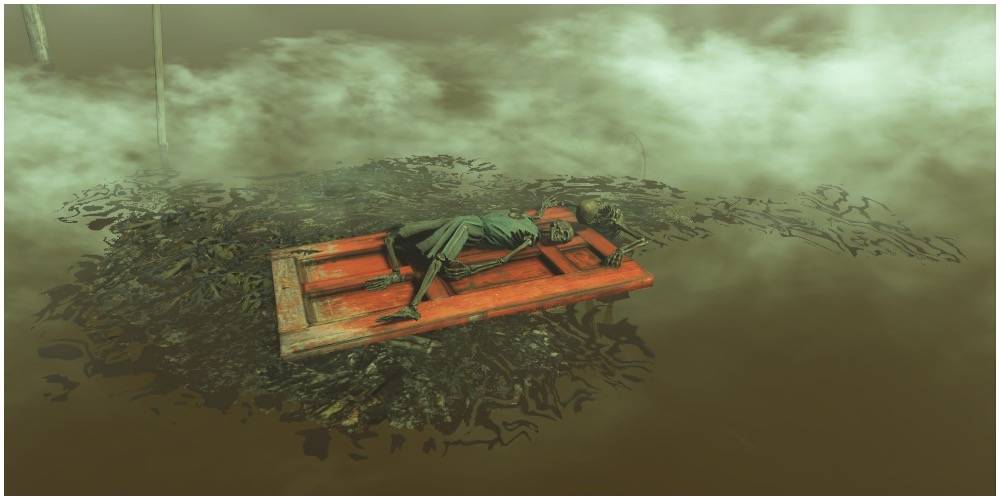 Two skeletons can be found in the Far Harbor DLC. One is sitting on a door, and the other is in the water and hanging on. This is a reference to the end of the movie Titanic, when Jack and Rose have to use a door to save their lives.
If a player comes across this, they will definitely know what it means because of the well-known picture. Sad to say, it looks like neither of them made it. At least the skeleton hanging on to this Easter egg didn't sink to the bottom of the water.
You can play Fallout 4 on the PC, the PlayStation 4, and the Xbox One.